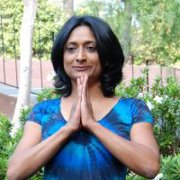 Umang is the Founder/Owner/Health & Wellness, Nutrition and Accountability Coach/ERYT – Certified Yoga Instructor through Yoga Alliance (asanas/controlled breathing techniques, visualization techniques and meditative techniques, laughter yoga) at Wellness Haven, LLC, with 3,500+ hours of teaching experience. She also helps doctor recommended patients recovering from strokes, injuries and surgeries through her one on one Rehab Yoga Therapy sessions. She is also a Life-Style and Accountability Coach enabling and empowering her students to discover the blissful life they deserve to live. She makes house calls with cancer patients in all stages of cancer helping them through meditation, breathing and guided imagery.
After being in the software side of the IT world at AT&T for 20+ years, she decided to take her passions for yoga, writing and life coaching to the next level – make these her living and is loving it



Umang is a mother of 2 children aged 21 and 17 and a grandma to her daughter's 3 year old Golden Retriever, Apollo, the light of their lives.
She follows her passions wholeheartedly, no holds barred: Yoga, Writing, Life-Skills Coaching and excels at each one of them.

Follow Links below for more information: