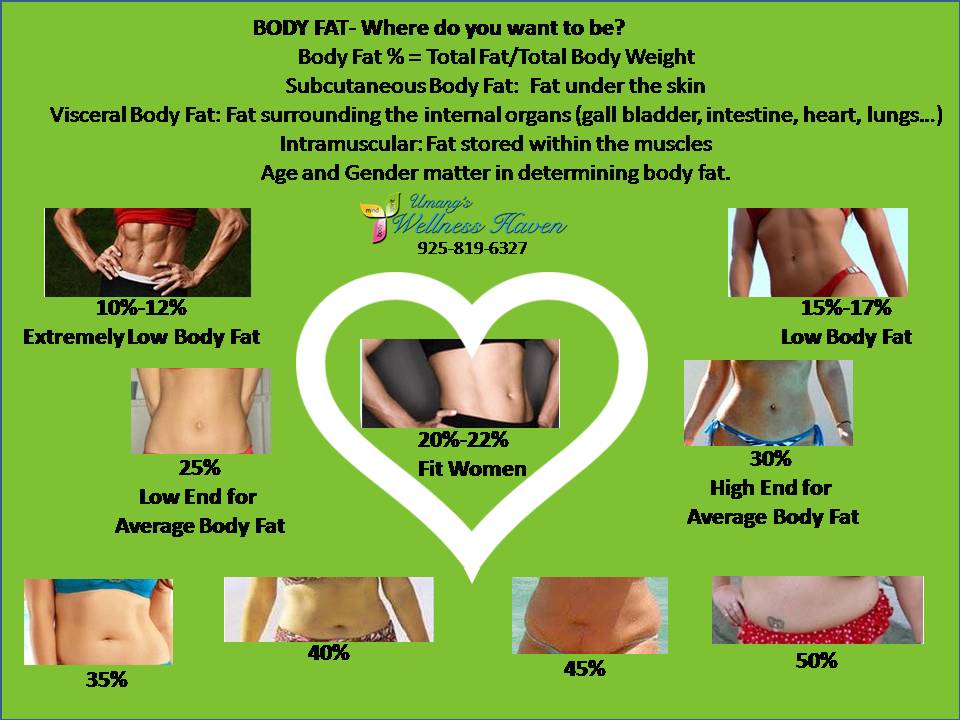 Losing unnecessary weight is quite an art and a skill that all those who carry extra weight, should learn to lead a healthier life. At Wellness Haven, our focus is on a healthy lifestyle that supports weight loss very effectively and in a wholesome manner, rather than quick and temporary weight loss gimmicks that seem to be so prevalent in the world today. We have very effectively taken care of hundreds of students on this weight loss journey whether they are local to San Ramon, like Danville, Dublin, Livermore, Pleasanton, Concord, Walnut Creek, Castro Valley, or any other farther location in the Bay Area like Hayward, San Jose, Cupertino, Pleasanthill, Lafayette, Foster City, San Francisco or more remote as in outside of Bay Area or even outside US.
What is Body Fat?
Fat is one of the essential components of the body. Body is made up of muscle, bones, fat and organs like the brain, liver, kidneys, pancreas and intestines, all of which are necessary for healthy functioning of the body. In 1 pound of fat there is approximately 3,500 calories of stored energy.
Fat is of 2 types:
1. Essential Body Fat: It is necessary for body functions and is stored in small amounts in bone marrow, muscles, central nervous system and organs. Essential body fat in men is approximately 3% and in women it is approximately 12 % due to differences in body functions.
2. Storage Body Fat: It is the fat that accumulates under the skin, around organs and in the muscles and this fat is necessary for the protection of the internal organs from injuries. This storage fat remains approximately the same in both men and women. But when this fat gets stored in excess, it becomes unhealthy and a person is considered overweight.
What is Body Fat Range?
Body fat can range from healthy to unhealthy on both sides of the spectrum. Too low or too high are equally unhealthy to maintain normal body functions.  Healthy fat range is depicted in the image on this page. Many women become overwhelmed with home and work responsibilities and let go of their body and become unhealthy. 
How do we lose extra body fat to lose weight? 
Losing body fat/weight is very simple. But tremendous patience is needed as is the case with anything worthy.
Cleanse your body regularly: Detoxing the body of the built up toxins is very much needed.
Eat clean: Keeping away from sugar, processed food, fatty food, and foods that create bloating or inflammation in the body.
Exercise: Staying flexible, strong, and balanced through yoga and supplementing it with other exercises is essential for a healthy body.
Remain hydrated: Keeping the body well hydrated keeps the body away from many physical ailments.
Sleep well: Good, quality sleep every night is essential for a healthy body.
Surround yourself with positive, productive, constructive, supportive and happy people: Having a positive outlook on life is very much needed to be mentally happy.
Breathing exercises and Meditation: Developing a daily habit of setting self time aside for breathing and meditation keeps the mind fit and healthy – mentally, emotionally, and spiritually.
At Wellness Haven we guide you step by step in your journey to good health, whether it is yoga, breathig and meditation or cleansing and clean eating.