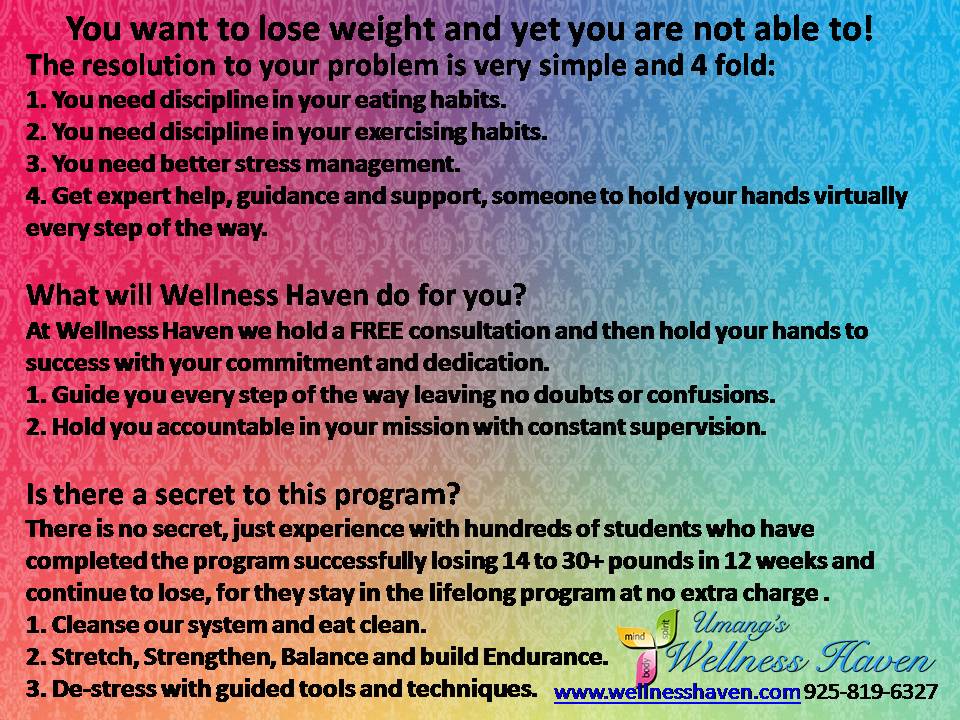 If you have made "losing weight" as your serious goal, then you deserve a pat on your back!
At Wellness Haven, our goal is to help, guide and support you in your mission to get your health back on track before the new year is on us. Staying healthy is our area of expertise and guiding you to your success is our mission. Whether you are a local of San Ramon or anywhere in the Bay Area or in any other remote location, we have proven ourselves successful in guiding you to health that lasts.
How will we support you?
We provide a complimentary consultation and evaluation one on one so that we know that we are a good match from both sides.
The moment you decide to get our guidance in your weight loss mission, we meet with you, either locally at Wellness Haven or on the phone, for about 90 minutes to get you started with the first week of the "Wellness Haven Nutrition Program – Lower Your Fat."

We make sure that there are no confusions left for you
We tell you exactly what to eat, when to eat and how to eat given your own lifestyle. Our goal is not to convert you from a vegetarian/non vegetarian to the opposite. We work with you.
We stay with you throughout your weight loss journey. We help you stay on track and hold you accountable in your mission.
We guide you through exercising whether you are local or remote.
We guide you through stress management, which has a direct impact on weight loss.
We stay with you every step of the way in your weigh- loss-journey by enabling you to jump-start your life with motivation and enthusiasm.
We measure you or advise you to be measured if you are remote, throughout the program to see results.
We take you step by step through the very important cleansing first week and into the weeks ahead where you are cleaning up your eating habits as well as learning stress releasing techniques and exercising.
We make sure that you stay on track even after the 12 weeks of the program, as we believe in changing lifestyle and not dieting as a temporary fix.
We help you detox and cleanse yourself once a quarter at the very least.
We make it FUN!
What do we need from you?
Your intense desire for a healthy body and a healthy mind
Your dedication to yourself
Your commitment to staying on track
Do not let this year go by. Make a commitment to yourself. Start the new year with a huge smile on your face.