December 7, 2014
Umang Goel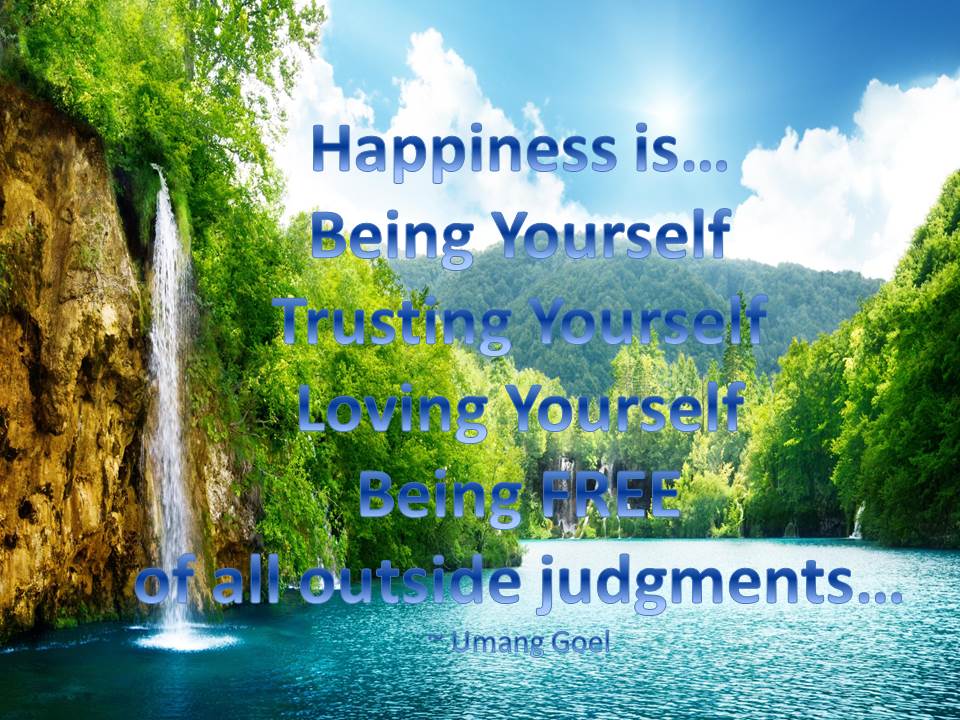 Be Happy!
Happiness and joy can be brought into ones life by following very basic life philosophies.
Be you. Inculcate habits that you like in others.
Love Yourself. When you better yourself in every aspect of your life, loving yourself becomes automatic.
Laugh often. Laughing releases happy chemicals in the body and keeps you joyful.
Sleep well. By creating better sleeping habits like the time you go to bed, and joyfully preparing for bed keeps you relaxed.
Eat well. Eating nurturing food and in a timely manner keeps you well on the inside.
Take nature walks. Learning from nature develops a peaceful mind.
Exercise/Be in yoga asanas everyday. A strong, flexible and balanced body is a healthy body.
Indulge in pranayama and meditation everyday. Such activities boosts the happy and peaceful energy within.
Work with discipline. Creating good working habits keeps you financially secure and stress free.
Follow your passion. Finding your life's passion and living it every day keeps you grounded.
Surround yourself with those wiser than you. Being with creative, happy, inspiring and wise people develops a better you.
Have fun with family and friends. Being and communicating with loving family and friends feeds the joy inside.
Free yourself from all outside judgments. Know that the only person you are in control of is you.
Life is as simple and as joyful as you make it. Lead a structured life free from clutter and with a lot of joy and peace. That is all you need to be happy.
We would love to read your comments below. Remember to share your joy with others.