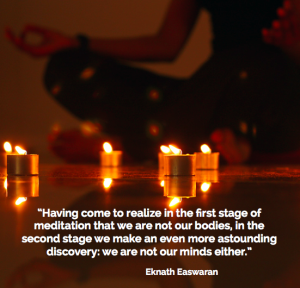 The Art and Science of Meditation
Many have not even begun to reap the benefits of a simple meditation practice simply because they are under the mis-conception that it is a difficult practice or not possible for everyone!
Here is my attempt to eradicate the myth that "not everyone can meditate."
 What is meditation?
Meditation is finding the space between thoughts.
As long as we have breath we will have thoughts; so thinking that meditation will allow you to have no thoughts is not only a myth but something that we should have no need to aim for!
Benefits  of Meditation:
Calms the mind
Decreases the stress hormone, cortisol.
Reduces anxiety.
Decreases blood pressure to optimal levels
Reduces cholesterol
Strengthens the immune system
As one continues to spend  minutes each day being in silence, the calm gradually seeps into every facet of one's life, bringing harmony and balance, compassion for every being, and urges one towards the Source creating a sense of peace within.
Key concept in reaping the benefits of meditation:
Just get started with complete faith that everyone can do it and then do it consistently every day!
And if you can do it at the same time every day, it is even better for it gives it the much needed consistency that builds a life-long habit.
How to get started with simple Meditation:
Find a peaceful, comfortable, and safe spot of your choice.
You can sit on a cushion against a wall for back support and cushions under your knees (You can even sit on a chair or you can lie down too if neither of the other options work for you.)
Once comfortable, close your eyes and focus on breathing – inhale and exhale with mouth closed.
Whenever your mind wanders, strive to bring your focus back to breath, again and again.
Start with 5 minutes and gradually increase to 10 to 15 to 20 minutes.
That is all it takes. Just do this every day and form the healthiest of all habits and reap the benefits for years to come. ~ Umang Goel
We would love to read your comments below. And remember to share your joy with others.