Kids Yoga Programs For Kids Under 13:
Contact email: umang@wellnesshaven.com
phone: (925)819-6327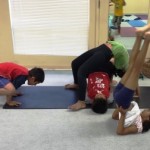 What do your kids learn?:
Breathing Exercises for allergies and asthma prevention

Being quiet in Meditation

Yoga asanas from A-Z, for kids learn it better than adults!!

Talks around life philosophies and nutrition that is easy to understand
Testimonial from Tejaswinee B., the mother of 2 children (ages 4 and 7) from Summer 2012:
"I had my two kids in Umang's summer yoga for kids and they just loved it. Umang of-course loves kids and passionate about yoga and I could see it on my refreshed kids faces when I would pick them up. It was very beneficial for their emotional and physical well-being. I would love to join summer yoga for kids this year and try to continue them during school year as well."
1.

Exclusive Independent Kids

Yoga During

Regular School Year

: For KIDS ONLY!
Saturday: 11:35 pm – 12:35 pm

Sunday: 8:10 am – 9:10 am
2. Independent Kids Yoga During Regular School Year: Kids with or without parents in the regular yoga classes
All held yoga classes throughout the week
Fee: 
8 classes per month: $120 
Unlimited classes per month: $138

3. Exclusive Independent Kids Summer Yoga Special: For KIDS ONLY!
2012 Kids Summer Yoga        2013 Kids Summer Yoga
Summer 2013 Dates: June 24 – Aug 24
Days: Mon – Thurs
Time: 3 pm – 4 pm