Location: Wellness Haven, 110 Ryan Industrial Court Ste. #14, San Ramon, CA 94583
Contact: (925)819-6327 
"The mind is like a parachute. It doesn't work until it's open." ~ Sam Johnson
Wellness Haven strives to bring to you empowering workshops for both women and men so that you can progress towards the life you envisioned and dreamed about. We keep the prices extremely low at $20 per workshop so that money does not stop you from learning. This Fall 2012 series has been liked by all who attended. We all learned a lot from all these experts and powerful leaders in their respective vocational fields.
If you are someone who is interested in participating/attending our workshop either as a student or as a vendor, or if you are an expert who would like to host your workshop at Wellness Haven, please contact Umang – cell: (925)8190-6327, email: umang@wellnesshaven.com
Upcoming workshops:
♥♥♥♥♥♥♥♥♥♥♥♥♥♥♥♥♥♥♥♥♥♥♥♥♥♥♥♥♥♥♥♥♥♥♥♥♥♥♥♥♥♥♥♥♥♥♥♥♥♥♥♥♥♥♥♥♥♥♥♥♥♥♥♥♥♥♥♥♥♥♥♥♥♥♥♥♥♥♥♥♥♥♥♥♥♥♥♥♥♥♥♥♥♥♥♥♥♥♥♥♥♥♥♥♥♥♥♥♥♥♥♥♥♥♥♥♥♥♥♥♥♥♥
Past workshops:
♥♥♥♥♥♥♥♥♥♥♥♥♥♥♥♥♥♥♥♥♥♥♥♥♥♥♥♥♥♥♥♥♥♥♥♥♥♥♥♥♥♥♥♥♥♥♥♥♥♥♥♥♥♥♥♥♥♥♥♥♥♥♥♥♥♥♥♥♥♥♥♥♥♥♥♥♥♥♥♥♥♥♥♥♥♥♥♥♥♥♥♥♥♥♥♥♥♥♥♥♥♥♥♥♥♥♥♥♥♥♥♥♥♥♥♥♥♥♥♥♥♥♥
Workshop 1:
Date/Time: Sunday, January 6, 1pm to 3pm
Topic: Creating a Winning Mindset
Presenter: Betty Jo Waxman, senior trainer for Productive Learning & Leisure
Location: Wellness Haven, 110 Ryan Industrial Court #13/14, San Ramon, CA 94583
After the great success of hosting workshops through Fall 2012, Wellness Haven is honored to announce the upcoming workshop for 2013: "Creating A Winning Mindset." What a powerful way to start off 2013!
"Thinking Positively" about an outcome and "maintaining focus." These are the two most widely talked about elements of creating a winning mindset, but not even the most important. In this workshop, Productive Learning & Leisure senior trainer, Betty Jo Waxman, will introduce you to the lesser known but more critical aspects for mastering this process.
You will:
* 
Gain insights into how to master the secrets of the mind.
* Free yourself from the disappointments in your life.
* Successfully fill your life with the dreams that have eluded you.Sign up
 and learn more at 
http://mindsetjan6.eventbrite.com/
We hope to see you there! Please call Umang at (925)819-6327 for any further information.
Workshop 2:
Date/Time: Sunday, February 10, 1pm to 3pm
Topic: Communications & Misunderstandings
Presenter: Betty Jo Waxman, senior trainer for Productive Learning & Leisure
Location: Wellness Haven, 110 Ryan Industrial Court #13/14, San Ramon, CA 94583
When we speak to someone we are most often crystal clear with what we mean to say in our heads, yet have a lot of unspoken data that supports the content of what we are communicating.  This is just as true for the person we are speaking to; they are crystal clear about their intent on the subject, but also have unspoken information that validates their view.
Learning to communicate effectively means learning to give context to your communications that others can understand. Those that are self-aware bring to the conversation a higher ability to effectively communicate their thoughts, feelings, and beliefs. Put multiple parties with this ability together and extraordinary communication, understanding, and productivity can unfold!
Join Betty Jo Waxman, for an exciting opportunity to develop your ability to become an effective communicator!
Workshop 3:
Date/Time: Sunday, March 17, 2013, 1pm to 3pm
Topic: Does Your Thinking Limit Your Success?
Presenter: Cory Nott
Location: Wellness Haven, 110 Ryan Industrial Court #13/14, San Ramon, CA 94583
Do you:
Enjoy learning more about yourself?
Want to learn how to make better choices that lead to a happier, more productive life?
Ever feel like you are "getting in your own way"?
If you answered yes to any of these questions, you can't afford to miss "Does Your Thinking Limit Your Success?"
Discover the direct correlation between your thoughts and the results you see in your life!
You'll take away:
How your assumptions about life, money, and success affect how much you enjoy your life, career, relationships, and family.
A clearer picture of the perspectives you currently have that are limited.
Tools you can use to break out of these limitations.
And so much more…
OCTOBER/NOVEMBER 2012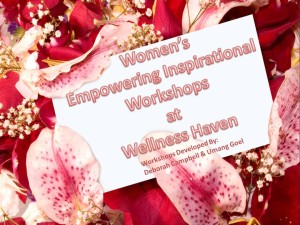 ♥ Wellness Haven in San Ramon is bringing you Women's Empowering Educational Workshop Series, taught by experts in their vocational fields, at very reasonable prices so that you can become equipped with powerful tools – whether it is your personal development or your business!  The next series will begin in Spring 2013!!
What is this series of workshops all about? Follow the video link: Wellness Haven Women's Empowering Educational Workshop Series
Video snippets of our workshops can be found at:
Moving Through Fear into Love – The Power of Board Breaking
Workshop Dates/Times: Sundays, 2pm – 5pm | 10/7, 10/14, 10/21, 11/4, 11/18 (details are listed below)
Workshop Location: Wellness Haven, 110 Ryan Industrial Court Ste. #13/14, San Ramon, CA 94583
Workshop Series Details
Workshop 1: 10/7
Understanding Emotional Pain – Discover Tools for a New Perspective and Experience
With family members
With friends
With co-Workers
Join Workshop Leader Ruth Kellogg LCSW– Who specializes in deep emotional healing
The key to accessing peace and clarity in your life is to be able to distinguish between the concepts of discernment and judgment. This workshop is designed to provide you with both a new way to understand emotional pain, and give you an experience of yourself without judgment. Ultimately you will have an opportunity to move away from ego-based consciousness and open a new door to your authentic SELF.
This experiential workshop will lead you to:
Embrace a holistic, spiritually based perspective on emotional health
Develop simple tools to use to bring yourself back into emotional balance
Experience a place of deep calm where your wisdom resides
Discover an opportunity to uncover your core Essence that guides you even when you are unaware
Workshop leader: Ruth has worked in the realm of emotional healing since the early 90's. Her skills arose from a deep experiential knowing that life is meant to be lived within the context of peace, harmony and joy. Uncovering and implementing the skills necessary to bring peace and harmony alive and prominent in her own life, is what drives her to share what she has learned. She has a successful practice in Dublin, working with anyone that desires emotional healing.
Contact Information:
email: ruth@ruthkellogg.com
website: http://www.ruthkellogg.com/
~~~~~~~~~~~~~~~~~~~~~~~~~~~~~~~~~~~~~~~~~~
Workshop 2: 10/14
Enneagram – The Secret to Successful Intimate and Business Relationships 
Join Workshop Leader Victoria Brown, MA an Integral Coach and certified Enneagram trainer for this highly experiential workshop.
The ancient symbol of the Enneagram has become one of today's most popular systems for self-understanding. The Enneagram offers a spectacular lens for self-reflection and growth. It provides an opportunity to realize and capitalize on our greatest strengths.
Get a powerful introduction to:
How you represent your Enneagram personality type

The interconnection that exists for everyone on the Enneagram map

How this self-understanding can be used to strengthen daily personal practices

The influence we have, right now, to create positive change in the world!
Victoria holds a master's degree in Organization Psychology from JFK University and possesses a broad and uniquely successful experience in business. Her professional background includes sales forecasting, production planning, distribution and merchandising. Victoria's experience in managing budgets in excess of $240 million has sharpened her business skills. After several trans-Atlantic moves with her family she changed her focus to human performance by becoming a leadership trainer for national non-profits. Most recently she served as Managing Director for eWomenNetwork, and facilitated connection for entrepreneurial women in the East Bay. Victoria directs All Nine Ways, a training company for organizations.
Contact Information:
phone:  
925 360-4740
email: victoriambrown@gmail.com
~~~~~~~~~~~~~~~~~~~~~~~~~~~~~~~~~~~~~~~~~~
Workshop 3: 10/21
Attracting the Relationships you Want in your Life
Join Workshop Leader Deborah Wood-Campbell, MA a Qualitative Researcher, Writer on Women's Issues and Workshop Series Co-creator
Do you often wonder why you keep attracting similar relationships into your life that do not enhance your well-being? Would you like to change that pattern?
Neuro Scientists tell us that ninety-five percent of our behavior is driven by our unconscious. In order to make changes we need to understand what our behavior conveys to people and why. This interactive workshop will explore:
The hidden motivation behind your actions
How you can learn to change negative patterns
Attract loving relationships into your life
Deborah Wood-Campbell is a graduate of JFK University and holds a Master's Degree in Consciousness and Trans-formative Studies with an emphasis on healing. Her qualitative research is in the area of women's dynamic power. Deborah works with clients to help them uncover emotional and psychological blocks in order to transform their lives.
Contact Information:
phone:  
925 437-6474
email: dwoodcampbell@ymail.com
~~~~~~~~~~~~~~~~~~~~~~~~~~~~~~~~~~~~~~~~~~
 Workshop 4: 10/28
Mind-Body Rejuvenation – Using Yogic Stretches, Breathing Techniques, and Visualization.
Join Workshop Leader Umang Goel, who specializes in physical, mental, emotional and spiritual rejuvenation techniques.
In this workshop you will learn:
How to keep your body flexible, develop a strong immune system, and relieve back pain using simple yogic stretches
The power of breathing techniques that can expand your lung capacity and improve your health
Unique methods of visualization to release mental barriers
How to achieve a state of peace and tranquility using meditation techniques
Umang is the founder/owner/certified yoga instructor/rehab yoga therapist/life-skills coach/author and co-creator of workshop series at Wellness Haven. Her own life experiences and trans-formative journey led her to create the Wellness Haven platform to help individuals have a positive impact on their lives. She is an avid writer on life related topics and is also a Life-Coach working privately with clients.
Contact Information:
phone:  
925 819-6327
email: umang@wellnesshaven.com
website: https://www.wellnesshaven.com/
~~~~~~~~~~~~~~~~~~~~~~~~~~~~~~~~~~~~~~~~~~
Workshop 5: 11/4 
Moving Through Fear into Love – The Power of Board Breaking
Join Workshop Leader Roya Daizadeh, MA a Certified Firewalk Instructor and Trans-formative Life Coach
What stops us from becoming who we envision ourselves to be? What blocks our next step to overcoming another milestone on our journey? Where does this fear come from? In this interactive workshop we will explore the fears that prevent us from achieving our goals, healing dis-ease, and finding fulfillment in life. Using guided meditation and contemplation, partner inquiry exercises, and board-breaking this workshop will teach you to:
Acknowledge limiting thoughts and beliefs
Become aware of your critic
Turn your fear into your power!
Roya holds a Master's Degree in Consciousness and Trans-formative Studies from JFK University with an emphasis on consciousness and healing. She works with individuals to encourage them to step into their power.
Contact Information:
phone:  
925 478-1592
email: royadaizadeh@gmail.com
website: www.royalfirewalking.com
~~~~~~~~~~~~~~~~~~~~~~~~~~~~~~~~~~~~~~~~~~
Workshop 6: 11/11
Manifesting Your Dreams – Traveling into your heart realms to empower your mind and turn your dreams into reality!
Join Workshop Leader Umang Goel, Life-Skills Coach, in this interactive workshop where she helps you to manifest the dreams of your core essence onto real life-canvas.
In this workshop you will learn:
To experience the power of reaching into the realms of your heart and depths of your mind using visualization to reveal with clarity your desires and dreams
How you can reach a tranquil place where you can unfold your dreams into reality
To express your emerging truth into and action plan
A homework assignment that creates a space of joy
Umang has developed, through her Life-Skills Coaching program, a technique that has proven effective not only in creating her own magical life but has helped numerous others. Her own traumatic experiences, followed by a miraculously uplifting life journey, told her to follow her intuition in the healing process. In this workshop she shares the lessons learned on her own personal journey and helps to guide you on a new healing path for your life.
Contact Information:
phone:  
925 819-6327
email: umang@wellnesshaven.com
website:http://umangslifecoaching.blogspot.com
~~~~~~~~~~~~~~~~~~~~~~~~~~~~~~~~~~~~~~~~~~
Workshop 7: 11/18 – last one in the Fall series!
Eating Your Weigh to Health – Achieve Optimal Health by not Dieting
Join Workshop Leaders, Dave Orejel and Dr. Candy Yang, in this informative workshop based on a new system of eating and delivery of essential vitamins and minerals. You will learn the benefits of vitamin/mineral supplementation and how the answer to your health issues can be found in your DNA. The leaders will show you how through the new 'Isotonic' system you can attain optimum health. There will be nutritional products for attendees to sample.
The statement you are what you eat has never been truer. The secret to optimal health and perfect weight lies in low-glycemic impact eating, behavior modification and body composition. Ninety percent of all diseases can be prevented through nutrition, and detoxing is the key in preparing your body for maximum benefits.
In this workshop you will learn:
Why most of us need to supplement vitamins and minerals in our diet
The benefits of many of the vitamins and minerals that our body requires
Why detoxing is essential for maximum health
How environmental factors, genetics and lifestyle impact your health
Dave is a Certified Lifestyle System Coach and Candy is a Licensed Acupuncturist, Registered Nurse and Clinical Professor at San Francisco State. They design customized eating and health programs for their clients that will produce optimum health and well-being.
Contact Information:
phone:  
408 518-2222
email: Daveorejel@yahoo.com
website: www.shop.com/savemo
~~~~~~~~~~~~~~~~~~~~~~~~~~~~~~~~~~~~~~~~~~
Space is limited so please contact Deborah Wood-Campbell at 925 437-6474 or
Umang Goel at 925 819-6327 to reserve your spot or reserve online.
For further details, please contact:
Umang Goel at (925)819-6327 | umang@wellnesshaven.com
or
Deborah Wood-Campbell at (925)437-6474 | dwoodcampbell@ymail.com
We look forward to seeing you at our workshop ♥
 Workshop Fees: Offered FREE during this Fall Pilot series! Will begin again in the Spring!!
 At the Door: $30
Advanced Registration: $20
Advanced Registration for Workshop Series Includes Complimentary Mind-body Rejuvenation Workshop: $120 instead of $210!
***The cost is $20 per workshop and if you sign up for the entire series in advance you will receive a complimentary Mind-Body Rejuvenation workshop.
Register Online for One or More Workshops
~~~~~~~~~~~~~~~~~~~~~~~~~~~~~~~~~~~~~~~~~~
SEPTEMBER 2012
♥ Nutrition Workshop!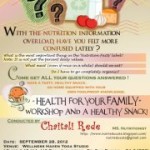 A wonderful health event – nutrition- you do not want to miss! Early bird registration for $20 only!
Instructor: Chaitali Rede, Nutritionist
Date: Sept 28, 2012
Time: 4pm – 6pm
Location: Wellness Haven Yoga Studio, San Ramon 94583
Please call: (925)819-6327
Detailed information at: http://www.nutrieducate.blogspot.com/p/workshop.html
Also on Facebook: https://www.facebook.com/events/311392822291420/