About Us:
Wellness Haven is about our students, their health needs and their health improvement. We listen to student needs, we care, we recommend health solution and we get results.
Wellness Haven Mission Statement & Philosophy
Educate, Enable, Empower & Support individuals to become healthy and wholesome – Mind, Body and Soul
Wellness Haven stands for all aspects of yoga
Mental Relaxation and Spiritual: Meditation
Prana / Life -Force: Pranayama / Controlled Breathing
Physical: Yoga Asanas / Posture / Alignment / Strength Building / Flexibility / Balance / Build Lean Mass
Nutritional: Lower Your Fat Percentage, Heal Your Body from Inside
Relaxation and Rejuvenation: Yoga Retreats ~ Overnight Retreats, 12 Hour Retreats, International Retreats
Stress Free Life: Life Style and Accountability Coaching
Becoming an Authentic and Soulful Yoga Teacher: 200 Hour Yoga Teacher Training
Business Coaching
About Us:
Umang's inspiration for Wellness Haven
We believe that we are "in yoga" 24 hours a day, 7 days a week: Yoga is how we conduct our life.
Our style of yoga has been inspired by Life Transforming practices of Yoga Asanas, Meditation, Pranayama, Visualization and Guided Imagery, Chakras Healing, Mudras, Bandhas, Chanting, Daily Positive Affirmation Rituals, Silence, Yoga Nidra, Laughter Yoga, Flow Based Sequences, Restorative Practices, Gentle Yoga, Power Yoga, and all aspects of Pantanjali's 8 limbs of yoga.
Bikramjit Singh's flute music is an intrinsic part of Wellness Haven Yoga
Being child like in joy is the theme behind Wellness Haven Yoga
Eradicating fears of all kinds is what we strive for
We believe that our own inner body heat enables the best and most healthy yoga practice
The energy of an aware, health conscious, committed and happy community is the backbone of Wellness Haven Yoga
Learn more about Umang, the founder of Wellness Haven Yoga: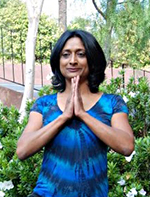 Umang Goel
Founder and Yogini (E-RYT 200)
---
Umang Goel was born in Patna, India and has been exposed to Yogic Philosophy her whole life. She has studied under several Yogis in India. Because of these traditional and authentic Yoga teachings, for Umang Yoga is more than just a daily practice; it is a way that can be applied to every aspect of living. Umang entered the corporate IT world in the United States for some years and later realized that this was NOT her true calling. Even though she has resided in the United States, she has never left her roots behind, one of them being Yoga. She courageously left the corporate world to live her true passion and to pass it on to individuals from all walks of life.  Over the years because of her unwavering and immense passion for Yoga, she has helped countless individuals who have yearned for something more in their lives since 2009. She has aided those with a desire to become healthier and more physically, emotionally and spiritually fit – to those who have been suffering with physical disabilities, weight problems, anxiety and stress related issues, and a myriad of other ailments.  She founded Wellness Haven in San Ramon as a home base for all those who want to learn "Authentic Yoga", realize self-growth and self-actualization through her teachings. Her certifications speak for themselves as Umang Goel is an Experienced Registered Yoga Teacher (E-RYT) with Yoga Alliance, which acknowledges the completion of a yoga teacher training with an approved and active Registered Yoga School (RYS).  She has accumulated over 12,000 teaching hours in Yoga, Breathing & Meditation. She skillfully incorporates both a Yin style of holding poses as well as Vinyasa style of breath-movement synchronicity. She blends the essential aspects of traditional yoga traditions in "one hour" yoga, breathing, and meditation sessions. An important foundation to Umang's philosophy is that spiritual aspects of yoga are essential and go hand in hand with the physical practice (She also brings her life coaching skills into her practice). She practices and teaches yoga, pranayama, meditation and nutrition 7 days a week, with enthusiasm, passion, and joy!
Learn more about us by exploring the different sections of our website.