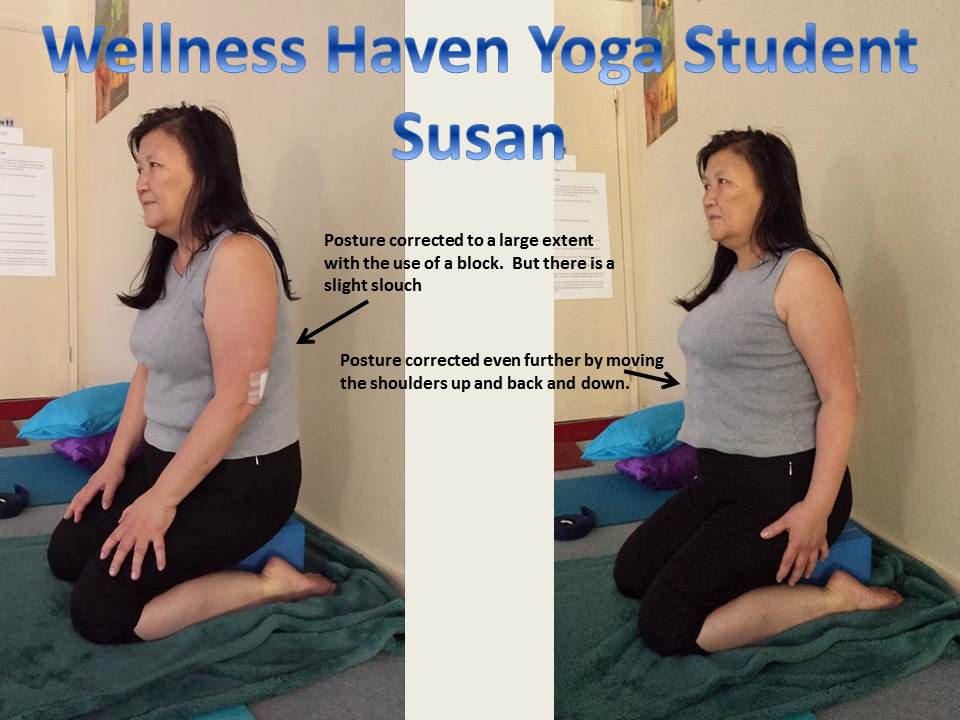 Correct Your Posture With Yoga
Posture is critical to a healthy human. You may ask, "Why?"
We have all grown up being admonished at some point or another about our posture. Posture is the body's correct alignment and positioning of muscles, ligaments and joints with respect to the gravitational force in all body positions, whether it is standing, sitting or lying down, so that the body remains in perfect balance, and no part is stressed.  When body is correctly balanced and positioned, it is at ease. When posture is good and you use your weight distribution correctly every action the body takes – walking, sitting, running, jumping, skipping, hiking or anything else –  is also in harmony. The spine functions well, the internal organs function optimally and there is an overall feeling of well-being in the entire body.
We work with your posture in all Wellness Haven Yoga Classes: https://www.wellnesshaven.com/wellness-haven-yoga-classes/
Benefits of a good posture are manifolds:
1. It boosts confidence as with correct posture you look taller, slimmer and more radiant; your clothes fit much better.
Those who practice yoga regularly are noticed by others as having a yogic stance.
2.  It makes breathing easier, deeper,longer and smoother.
Those who practice yoga and pranayama regularly experience this impact.
3. It boosts the digestive and the circulatory system by keeping the internal organs healthy and without improper compression.
Those who practice yoga regularly notice a difference in their abdominal, and improvement in their digestive problems like constipation and acid reflux.
4. It supports your muscles and joints through proper alignment and keeps the spine healthy.
Those who learn yoga under proper guidance learn to align their muscles and joints. This helps them stay away from body aches and pains, especially arthritis, joint pain, sciatica, due to misalignment of the spine. It prevents muscle fatigue. This is especially helpful to those who sit at office desk for hours at a time
5. It supports a healthy mind.
Those who practice yoga, pranayama, and meditation regularly and keep a good  posture keep depression, anxiety, feelings of panic at bay. They develop an open and flexible mine that encourages perspectives that are positive and balanced creating a healthier and happier lifestyle.
Practice yoga, Breathing and Meditation regularly. Maintain a proper posture. Eat well. Sleep well. That is all one  needs for a joyful life for these open up the mind to the other aspects to a happy life.
We would love to read your comments below. Please remember to share your joy with others.