Wellness Haven Certified 200 Hour Yoga Teacher Training Program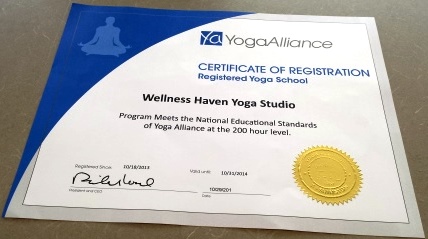 Certified and Registered Yoga Studio (RYS 200) under Yoga Alliance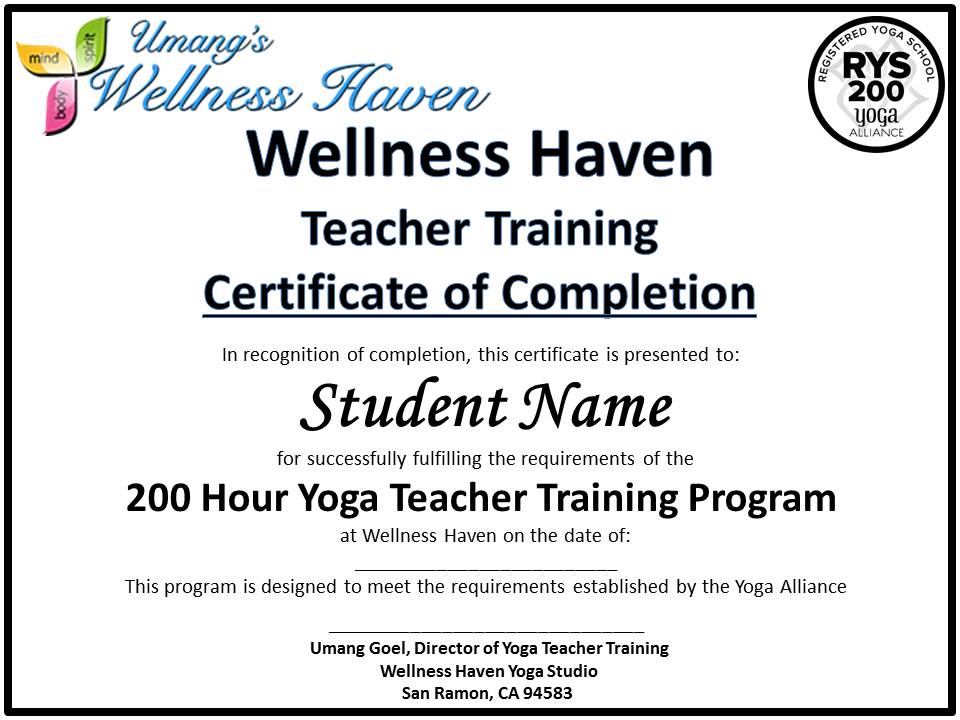 Become an empowered, certified Yoga Teacher by Wellness Haven (Yoga Studio (RYS) recognized for 200 Hour Teacher Training by Yoga Alliance.)
Once certified by RYS Wellness Haven, you can register as an RYT (registered yoga teacher) under Yoga Alliance and become a part of their directory of RYTs.
Attention Yoga Students
If you are curious and are wondering if our yoga teacher training program is for you, answer the following questions and find out
Do you just LOVE yoga asanas?

Do you find yourself in a yoga asana class almost every day?

Do you own at least one yoga DVD? or a yoga magazine, or a yoga book?

Are you hanging out at yoga websites whenever you get chance?

Are you looking at a yoga asana and wondering how quickly you can do it?

When you are on vacation, do you indulge in a quick yogic stretch any chance you get?

Do you feel at one with yourself after a yoga session and you feel addicted to feeling good?

Are you completely involved in synchronizing your breath with each yogic stretch?

Do you have this tremendous urge to encourage others to learn what you have learned?

Do you have this intense desire to understand what goes behind the world of yoga – what does it feel like to operate from a point of no fear?
If you answered "Yes" to any 5 or more questions, you just might be ready for the next step!
Yoga has become such an integral part of your life, such a source of balance and joy in your life, that the next logical step is to learn how to be a yoga teacher!
Two extraordinary training programs are conducted at Wellness Haven, the kind that is not offered anywhere, to take you to the next level in your yoga journey. Our programs have been developed methodically with authentic Indian values so that a student becomes fully equipped in all aspects of yoga. These programs are designed to meet the 200 Hour Teacher Training Requirements established by the Yoga Alliance.
After her Teacher Training in the US, Umang became aware of several missing pieces, critical to becoming a worthy yoga teacher, and went to the Ayurveda and Yoga Institute in the Himalayas, India in search of answers. The Indian philosophy and teachings were a solace, and geared her to be who she was meant to be – an authentic and soulful yoga teacher. She strives to bring all such missing aspects of a Yoga Teacher Training Program that she did not find during her own training in the US, and came up with a rock-solid program that leaves no stone un-turned in the journey of joyful learning! She personally grooms just a handful of committed students for each Training and teaches them all that there is to know about how to be a true yoga teacher – ethical, empowered, fearless and who will be proud to be called Wellness Haven Groomed Yoga Teachers! Unless the teachers are fully confident of their skills, they are not let loose. There is a $25 renewal fee per year after solidifying as a Teacher  to maintain Wellness Haven decorum and philosophies of what it means to be a Wellness Haven Yoga Teacher. Wellness Haven ensures that the teachers are enrolled in continued education through their journey as a yoga teacher.
Advanced Yoga Study for Continued Education Hours

(pre-requisite to yoga-teacher-training and

included

in the yoga-teacher-training program)
Tuition: $2,000, if purchased separately from Yoga Teacher Training
Breathing and Meditation: $250 can be bought separately for Advanced Yoga Studies
Seats are limited for quality control.
Yoga Teacher Training
Tuition: $4,500, includes Breathing and Meditation
Seats are limited for quality control.
Training Days: 
There are 22 required training days of which Day 22 is Graduation Day
Who are these programs for?
Beginner or advanced yoga practitioners who want to learn yogic philosophy of life and learn stress releasing techniques

People who have a passion for yoga and want to understand it better

People who want to embrace yoga as their profession

People who are already a yoga teacher and want to sign up for continued learning
Bonus Features: All enrolled students in the Teacher Training Program for the duration of the program will have free access to:
 Yoga Classes at Wellness Haven

Guest Lectures by Wellness Professionals
Details of the programs:
Advanced Yoga Study Program offers:
Philosophies and Principles of Yoga
Integration of the body and mind

8 limbs of yoga

Introduction to various styles of yoga

Principles of safe yoga practice
Controlled Breathing/Pranayama
Basic Breathing and Meditation (included in every yoga class at Wellness Haven)

Advanced Breathing and Meditation tools and techniques (Separate Program Fee of $250 applies for the Advanced Study Program; is included in the Teacher Training Program)
Basic Asanas
Body Anatomy

Physiology

Asana Alignment

Sequencing
Therapeutic implications of yoga
Safety practice for pain and injury for all ages
Upon Completion of Advanced Studies you will be able to:
Get a deeper understanding of yoga

Release stress

Create your own yoga practice

Apply these hours to continued learning
In addition to the Advanced Yoga Study topics, Yoga Teacher Training Program Offers:
Ethics of teaching yoga

In depth understanding of challenging yoga asanas
– Adjustments
– Alignment
– Sequencing
– Modifications
Yoga class composition

Language of teaching and music

Pacing a class

Establishing your own yoga style

Opportunity for practice teaching yoga classes at Wellness Haven

Introduction to Business Aspects of Yoga
Note:
This program does not teach you or certify you in the following:
Kids Yoga

Pre-natal Yoga

Any other Specialized Yoga

How to run your business
Upon Completion of Teacher Training you will be able to:
Teach yoga with confidence

Direct a multi-level class of yoga students

Become an empowered individual

Discover the various avenues of yoga

Bonus: There is a POSSIBILITY that you may get hired by Wellness Haven Yoga Studio to be a Wellness Haven Yoga Teacher!
Books Used in Training:
Light on Yoga by BKS Iyengar

Yoga Anatomy by Leslie Kaminoff

Anatomy of Movement by Blandine Calais
Other recommended reading:
Yoga Sutras of Patanjali

Light on Pranayama by BKS Iyengar

Class Handouts
Yoga Teacher Training Testimonials
I think the very best thing you've done with the program is have us teach each other from the very beginning. I was nervous about it the first time, but the exposure of being in front of people is so helpful and encouraging. And it definitely helps too that I think we all enjoy each others company. I also really appreciate the daily packets you give us instead of just pointing us to page numbers in our books. It really helps to have the whole day documented in one place. Kristian Lorenzo

Hi Umang,
Thanks!! It's been wonderful knowing you as a yoga teacher and now that you are my "Guru" learning has become all the more fun and exciting!! Umang Wellness Haven has become a second home to me as I always enjoy every moment amidst wonderful people wanting to improve their health and life. I always want to stick around a little bit more after my morning yoga class and take that extra something with me to feel great rest of the day. As regards the Teacher's Training Program you have made it so easy to understand with all the information just one click away, I must say you are one dedicated teacher who is doing every bit to make our learning experience awesome!! I feel very blessed to have you as a Guru and I am confidant that under your guidance we will come out with flying colors!!
Sincerely yours in yoga training,  Poonam Uppal

Hi Umang,
I love the teacher training, it's going so well! I love the websites you showed us last week. It is very helpful to have all the visuals of the poses because I feel I learn best with a lot of pictures. I also like how you are having us teach right away so we get comfortable with it. I can't think of anything you could improve on, everything's great. Looking forward to teacher training #3!Erin Helm

I am really enjoying the training. The format is great, the other students are sweet and I love your visual print outs. For me as a visual learning, this really helps to concretize the verbal instructions. Danielle Saunders

Hi Umang,
I love the teachers training program because this is the only program in which you are providing all the hands on material for every single session. Because of this I have all the information about the different yoga poses handy and readily available. Also, I like the way you want me to practice teaching other students after learning each yoga pose. All teacher trainees are getting lot of practice for teaching as well as doing the poses. The meditation class is so informative and rejuvenating. You gave me a nicely organized Google spreadsheet with lot of good information. Thank you very much for going above and beyond what was required of you and doing all these things which I may never have got in any other class. I am very happy and glad to have joined this training. Thank you. Vaishali Puranik
Wellness Haven Yoga Instructor & Graduates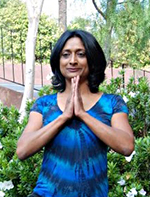 Umang Goel
Founder and Yogini (E-RYT 200)
---
Umang Goel was born in Patna, India and has been exposed to Yogic Philosophy her whole life. She has studied under several Yogis in India. Because of these traditional and authentic Yoga teachings, for Umang Yoga is more than just a daily practice; it is a way that can be applied to every aspect of living. Umang entered the corporate IT world in the United States for some years and later realized that this was NOT her true calling. Even though she has resided in the United States, she has never left her roots behind, one of them being Yoga. She courageously left the corporate world to live her true passion and to pass it on to individuals from all walks of life.  Over the years because of her unwavering and immense passion for Yoga, she has helped countless individuals who have yearned for something more in their lives since 2009. She has aided those with a desire to become healthier and more physically, emotionally and spiritually fit – to those who have been suffering with physical disabilities, weight problems, anxiety and stress related issues, and a myriad of other ailments.  She founded Wellness Haven in San Ramon as a home base for all those who want to learn "Authentic Yoga", realize self-growth and self-actualization through her teachings. Her Certifications speak for themselves as Umang Goel is an Experienced Registered Yoga Teacher (E-RYT) with Yoga Alliance, which acknowledges the completion of a yoga teacher training with an approved and active Registered Yoga School (RYS).  She has accumulated over 9,000 teaching hours in Yoga, Breathing & Meditation. She skillfully incorporates both a Yin style of holding poses as well as Vinyasa style of breath-movement synchronicity. She blends the essential aspects of traditional yoga traditions in "one hour" yoga, breathing, and meditation sessions. An important foundation to Umang's philosophy is that spiritual aspects of yoga are essential and go hand in hand with the physical practice (She also brings her life coaching skills into her practice). She practices and teaches yoga, pranayama, meditation and nutrition 7 days a week, with enthusiasm, passion, and joy!
---
Some of our graduates and Trainees from Teacher Training